CTS adds more capability to its versatile Sentinel Blackbelt leak tester
September 14, 2021
|
By Cincinnati Test Systems
More test options, expanded tooling control, added connectivity, even greater reliability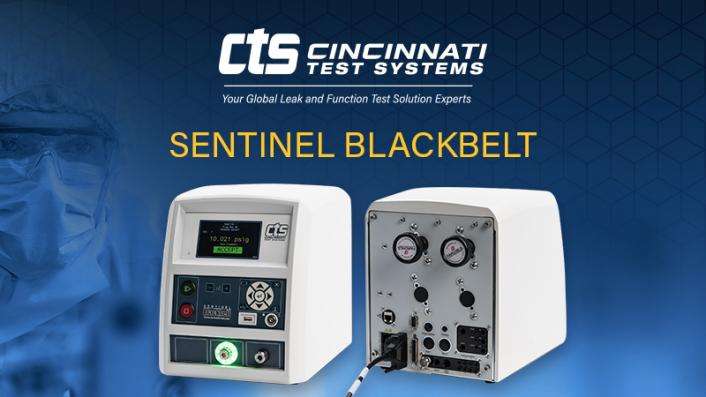 September 14, 2021 – Harrison, Ohio – Cincinnati Test Systems, the expert in leak and function test, has updated its Sentinel Blackbelt with new features, creating the most powerful and multi-functional single-channel benchtop leak tester on the market today.

Blackbelt is a precision instrument designed for maximum performance and minimal space requirements. This makes it ideal for high-volume manufacturing, as well as clean room production environments, to test parts and devices that may have complex internal geometries and challenging physical properties such as flexibility and elasticity.

The Blackbelt has become a mainstay because it offers so many standard features – manufacturers can easily customize their test for a broad range of requirements. While it is a single-channel instrument, Blackbelt can run a multitude of different tests on up to four different sequential ports for either single parts that have multiple connection points or multiple unique parts and store all this test data together.

"Our team has drawn on years of experience from the field working side-by-side with manufacturers to update Blackbelt with new features that make it even more flexible and multi-functional than before," said David Kralovetz, Global Market Specialist - Medical at CTS. "Blackbelt remains the trusted go-to for manufacturers, particularly for medical devices and industrial lab environments."

New features include:
Test with differential pressure/vacuum decay: Available with 1, 2, 3, or 4 sequential test ports. The ultimate in pressure decay sensitivity/resolution and repeatability, for shorter cycle times, ideal for low leak rate and/or large internal part volume applications. This adds to the existing capabilities for pressure decay, mass flow, and occlusion testing.
Six additional standard mass flow ranges: In addition to the existing standard mass flow ranges of 50 and 250 sccm (standard cubic cm per minute) and 3 slm (standard liters per minute), new ranges include 20 and 500 sccm, and 1 and 10 slm. This allows optimal measurement resolution for leak, flow, and blockage testing.
Added manifolds and upgraded valves: New low isolated volume (<1.0 cc) manifold option is available, ideal for small part applications. Nearly all manifold valves are rated for 40 million+ cycles for greater longevity. Further, standard flow manifold pressure and flow capabilities have not changed, permitting near matching test performance with previous Blackbelt models.
Enhanced Test Station Control, with 12 inputs/12 outputs: More control related to more tooling options, with four test ports that are selectable with common pneumatics. This delivers increased repeatability, with less manual intervention by the operator. The Blackbelt's intuitive user interface allows users to configure up to eight tooling motions that might otherwise require the increased cost and complexity of PLC hardware and its programming.
Expanded communication protocols: If users do want to interface with a PLC, Blackbelt now features Industrial Ethernet connectivity with both PROFINET and EtherNet/IP, as well as other existing options of Telnet and Serial.
The latest Blackbelt is also CTSnet LT compatible. With CTSnet LT software, plant staff can easily manage compatible Blackbelt instruments that are on the plant's network from a desktop or laptop PC. Configure tests and copy/paste new test programs to quickly configure another instrument. Review waveforms and other data generated by each test cycle and export reports. Quickly upgrade instrument firmware. Backup and restore programs and instrument settings.

About CTS
Since 1981, Cincinnati Test Systems, Inc. (CTS) has delivered precision leak detection equipment, functional test systems and assembly verification testing to manufacturers. Its Sentinel, TracerMate and LPC products are used for pressure and vacuum decay leak testing, flow testing and tracer gas testing in the medical device, automotive, consumer products, off-highway, oil and gas, and energy sectors. CTS is part of the TASI Group of Companies' Product Integrity organization, along with innomatec Leak Test Solutions, Sciemetric, and Sierra-CP Engineering. The Product Integrity organization provides Industry 4.0 leak test, data management and analytics solutions that help manufacturers worldwide improve quality and productivity. CTS has sales and support offices in the U.S., Mexico, Europe, India, and China.

Media Contact:
Leo Valiquette
(613) 769-9479
leo@leovaliquette.com