The CTS Sentinel I28
November 25, 2015
|
By CTS Admin
The Sentinel I28 test instrument from Cincinnati Test Systems (CTS) delivers superior versatility, accuracy, and reliability in one compact and easy-to-use package. The I28 multi-functional leak test system offers proven valve manifold technology and high performance pressure transducers to reduce test cycle times while improving testing accuracy and repeatability. No other test instrument on the market provides the performance or the flexibility of the Sentinel I28.
Unparalleled Versatility
The multi-technology Sentinel I28 is configurable to a wide range of leak testing requirements, with a total of 99 test programs available. Standard and specialized testing technologies include, but are not limited to:
Mass flow
Pressure decay
Differential pressure decay
Pressure drop
Vacuum decay
Burst test
Ramp to event
Rate of change
Proof test
Volumetric
Occlusion
Quick test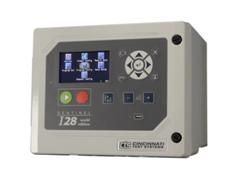 The I28 covers a wide test pressure range (-14.5, -2, -0.1 to 4" HG, 0.5, 2, 30, 100, 200, 400, 500 or electronic regulation—PSIG) and offers a variety of user-selectable test units of measure in pressure, flow, and time. Units of measure are easily selectable per part program.
Small Size, Big Performance
Measuring just 12" by 9 ¼" by 8 ¾", the Sentinel I28 is the perfect size for any work environment and can be wall-mounted for added space savings. Special long-life valves and manifolds reduce maintenance requirements, and the system is pre-wired for external conductivity and easy installation. The I28 includes a powerful 32-bit processor, a 24-bit A/D converter, and transducer resolution 0.0004% of full scale for fast, efficient performance. Automatic calibration capabilities, optimized pneumatic manifolds, and environmental drift control ensure accurate results in any test program. Onboard data storage can retain results for 40,000 events, with unlimited expandability via USB ports. A language-neutral operator interface, multi-language software, and CTS' patented "auto setup" programming make this leak test instrument incredibly easy to use. A high contrast 24-bit color TFT display, XY graphing for pressure, loss, or flow, and illuminated test status bars make it simple to read and review test results.

The Sentinel I28 also offers advanced communication capabilities. Data can be transmitted via Ethernet, email, text message, or other methods, giving you the leak test information you need no matter where you are. If you need fast, accurate leak test results across a broad spectrum of testing requirements, you need the Sentinel I28.

Contact Cincinnati Test Systems today for more information!