Leak Testing, Successful Fall Seminar!
January 6, 2016
|
By CTS Admin
On October 6-8, 2015, Cincinnati Test Systems held our 30 th annual leak test seminar. Once again, the multi-day event was an unquestionable success. Held at CTS' Harrison, Ohio, headquarters, the conference's educational program covered leak testing fundamentals, various types of leak detection technology, and more.
Leak Testing Focus:
The seminar's focus was on educating CTS' customers on the many variables that can affect their products in their production environment. Following a few basic, introductory classes, our instructors expanded their scope to cover higher-level leak testing education. Classes at the leak test seminar covered:
Fundamentals of leak testing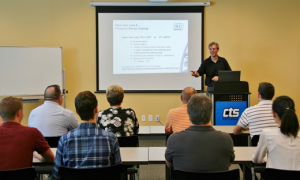 Attendees received free training, a look at some of our newest, most innovative leak test instrumentation, complimentary meals, and a tour of our manufacturing floor. Cincinnati Test Systems would like to sincerely thank all those who attended this year's leak test seminar. We hope to see you again at the Fall 2016 session!