Custom Sealing Solutions for Leak Testing
May 5, 2016
|
By CTS Admin
There are countless parts and components that require pressure testing, and those parts and components come in countless configurations. As such, there's no one connector that will safely and reliably fit every test piece. Fortunately, Cincinnati Test Systems (CTS) offers custom connectors, custom face sealing solutions and custom solutions for leak testing that will fit your parts perfectly.
Customized Designs for Safe & Reliable Pressure Testing
CTS Connect part holders are designed specifically to your part's tolerances for secure loading and holding during testing. Rather than connecting to the I.D. or O.D. of your tested part, these units feature a pneumatically-operated or manually-operated cam driven custom face seal that compresses a durable seal against the surface of the tested part. Manufactured from a proprietary urethane material, this seal can withstand many cycles, and many high pressure test requirements. Our expert engineering team can create the customized CTS Connect unit you need based on your design drawings, 3D/CAD model, or sample part. No matter how simple or complex your part geometry or dimensions may be, we can develop a custom solution—the possibilities are all but limitless. [caption id="attachment_101" align="aligncenter" width="407"]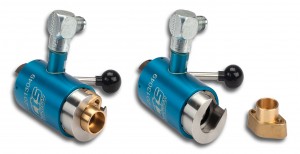 Custom CTS Connect part holder, with and without test part in place.[/caption]
Custom Face Sealing Solutions for Pressure and Leak Testing
CTS Connect part holders are designed for manual applications—i.e., those where the operator puts the test part in the connector by hand before actuating the device. The receiver (the silver, C-shaped piece at the front of the unit in the above photos) is built to fit perfectly onto your part. It holds the part in place securely to ensure safe testing with no "blowouts", even at very high pressures. Every CTS Connect unit is designed for easy application and testing. Test air supply fill ports can be provided, if needed; plugged models are available if your air supply will come from another source and you only need the unit to provide the pressure seal. In the photos above, for example, the silver elbow fitting at the top of the unit is the air supply port. Sturdy construction, corrosion-resistant housing materials, and robust seal rings provide a long working life for reliable, dependable testing through thousands of test cycles. For more information, or to get us started on a custom CTS Connect unit for your part testing needs, contact Cincinnati Test Systems today.