CTS Fall Seminar Wrap-up!!
November 14, 2012
|
By Cincinnati Test Systems
Cincinnati Test Systems wraps up the year strong with our 27th annual fall seminar on November 7th and 8th. This 2-day event was hosted at the Woodlands conference center to accommodate over 110 customers. For the fall, we decided to expand sessions focused on pressure decay and mass flow technologies while incorporating Charge Gas and Sniffing technologies into a one-day session. This seminar is designed to educate our customers on the variables that can effect their products in their production environment. They apply what they learn to their test requirements improving their overall production process.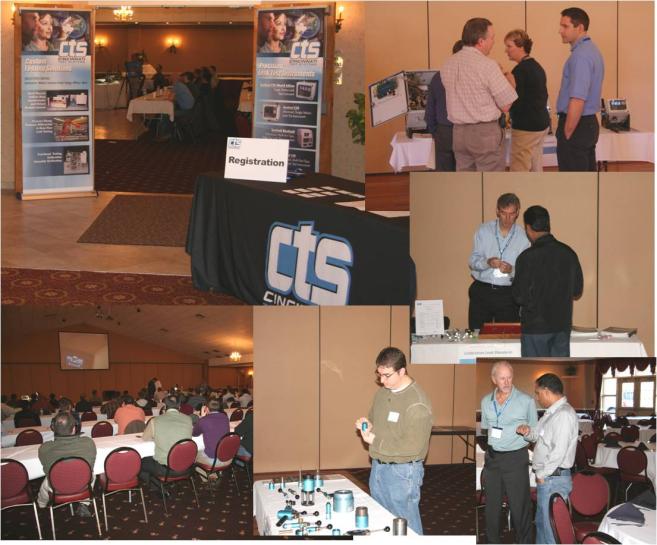 Technologies consisted of:
Leak Detection Technologies
Pressure Decay Techniques
Mass Flow Techniques
Charge Gas and Sniffing Technologies
Integration
Classes started with the basics "101 classes" and our instructors expanded into higher levels giving all levels of customers a new learning curve. This also helped us at CTS get better acquainted with our customers and their manufacturing needs.
Some of the Survey comments reflecting this extreme satisfaction on what they liked most about the Seminar and why in their own words include:
"I learned a lot about leak testing in a Single Day!!"
"Very useful information and the ability to see new products"
"Leak testing 101 – good background for someone with very limited leak testing experience"
"Live demo examples, staff very friendly and informative"
"The enthusiasm of the speakers was great. The program is laid out to flow without being boring or redundant. Overall atmosphere and vibe of the seminar was GREAT! "
"Good information and explanations for all experience levels"
If you didn't get a chance to come out for Fall Seminar, dates will be announced in a future newsletter. Plan now to join us and grow with us!