Choosing Effective Leak Test Seals and Connectors for Medical Device Manufacturing
October 28, 2021
|
By Dave Kralovetz – Global Medical Device Testing Specialist
In the medical manufacturing industry, reliable quality testing is of the utmost importance—particularly when it comes to leak testing. And an accurate and reliable leak test starts with leak test seals and connectors you can trust. Leaking seals are the primary cause of misleading leak test results, especially in pneumatic test environments.

When testing medical devices for leaks, there are specific test requirements that should be included in your leak test environment. For example, you will need leak test seals and possibly part holding fixtures built to secure hard-to-seal fittings, such as fittings for flexible tubing and luer connectors. You also want to test products in which all touchpoints are made of stainless steel, urethane, and silicone-based sealing materials to ensure Food and Drug Administration (FDA) compliance.

It is important to understand the specific design, fixture, and seal considerations for medical device manufacturing and leak testing, which we will review below.
Test Station Design Considerations for Medical Device Leak Testing
Before you can build an efficient leak test station, you need to start with a plan that considers the following:
Automated vs. manual part handling
Whether you are using automated part handling, manual testing, or a mixture of both, you need to allow sufficient cycle time for an accurate test.

With an automatic leak test, the system automatically senses the part and then connects with sufficient seal force to hold the part in place when test pressure or vacuum is applied. You can then start the test.

When you conduct the test manually, you need to account for variables that may affect the results:
Is the sealing/locking force sufficient to hold the part in place for an accurate test?
What kind of operator movement do you need to incorporate into each manually activated seal or clamp?
How efficiently can the operator conduct manual load/unload of the parts for the leak tests?
Line configuration
Line configuration is also an important consideration. The line setup will determine where to place your tooling and whether it is a lean cell design, single-piece flow design, or batch testing setup. For stable and repeatable leak testing, you also need to be aware of factors that affect test results, such as thermal transients caused by upstream heat-inducing assembly steps such as welding or gluing, operator part handling method and duration, cleanroom HVAC duct locations, etc. Depending on the test method chosen, tight control of the air pressure throughout the test may require the use of air accumulators. The budget you have available for your test environment will be a factor here.
Testing environment
In any testing environment, you also want to ensure you have optimal test conditions. That includes making sure the test environment is clean and uses uncontaminated air as is typically required for cleanroom use.
Fixturing Considerations for Medical Device Leak Testing
Fixturing (i.e., holding and controlling) the part so that it is stable is an essential part of leak testing. Any part movement during a leak test can affect the test outcome.

Nesting (i.e., containing the part under test to limit expansion) is also an essential factor when testing flexible parts, often found in the medical device manufacturing industry. You want to control the part's surface before you introduce your sealing devices so that you don't add further wear to your leak test seals. Nesting achieves this by clamping the part using control surfaces.

You must also account for variations that are not associated with leaks, such as variations in station clamping pressures. Be sure to choose the right seal durometer so you have good seal longevity/durability but flexible enough to reliably seal the part each time to ensure repeatable testing. You also need sufficient clamping pressures to overcome the test pressure applied to the part itself so you don't have seal leaks during the test.

Another consideration is to build positive stops into the seal engagements with the part. For example, if you clamp a part for testing but fail to come to a positive, repeatable stop position during clamping, that seal may engage the part openings at inconsistent depths. This will result in volumetric changes during the test and affect the results.
Sealing Considerations for Medical Device Leak Testing
CTS offers a complete line of CTS Connects, including pneumatic tube fittings, luer connectors, custom connectors, and more. CTS Connect fittings are made with 316 stainless steel and FDA approved urethane and silicone seals designed for medical applications.

There are both CTS Connect designs for sealing on luer fittings common to many medical devices as well as Connects specifically designed for sealing on soft tubing.

There also are CTS Connect connectors with OD seals with 316 stainless steel ID support mandrels for applications such as flexible medical tubing. The OD seals and internal mandrels are specifically designed to support the tubing when it is pressurized to ensure better testing.
Leak Testing Medical Devices with Luer Fittings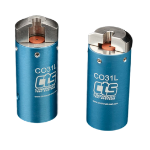 One of the most popular uses for CTS Connects in medical device testing is mating to luer fittings. CTS has a specially designed luer connector that is pneumatically actuated to eliminate operator induced engagement variability. This CO31L Connect uses a custom machined 316 stainless steel luer fitting part holder and seals on the luer opening using a face seal. The operator simply places the luer fitting into the custom-made stainless holder and the seal is pneumatically actuated prior to the start of the testing cycle.
The key benefits of the Connect are to reduce work-related fatigue and injury (ie. carpal tunnel) and also ensure consistent sealing method and force prior to testing, unlike common manually mated luer lock fittings where engagement force (and subsequently possible leakage) may vary from one operator to another.

Also, this connector design is excellent for accommodating multiple different test part or luer fitting models with minimal complexity and expense by incorporating quick-change part holding "noses" that can be exchanged without tools via multiple spring-loaded detent locators on a single CO31L Connect body that remains mated to the instrument. When changing the part models to be tested, the user simply removes the current nose by hand and replaces with the new nose by securely clicking it into place over the detents.
Leak Testing Medical Devices with Flexible Tubing
Leak testing medical devices that use soft, flexible tubing is challenging because it's difficult to seal the outside diameter of the tube due to its compliance. Barbed fittings may be used, however they do tend to erode the ID of the tube to be sealed and operators get quickly fatigued by having to press the tube over the barb repeatedly cycle after cycle.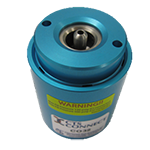 To solve this problem, CTS has designed an OD seal that fits over a 316 stainless steel ID support mandrel. The mandrel supports the interior of the tubing, allowing the OD seal to engage the outside of the tubing without it collapsing under compression. The ID support mandrel is hollow and allows filling of the part under test.
The CTS Connect connectors are designed to simplify leak testing, especially for medical devices.
Choosing Products Designed for Medical Manufacturing
Having worked with many of the world's top medical device manufacturers, CTS has built the CTS Connect line to serve your unique needs. We provide standard and custom solutions, helping medical device manufacturers design reliable leak tests to the most exacting standards.

We know the challenges that medical device manufacturers face with leak testing, which is why we provide a comprehensive line of leak testing solutions to ensure accurate leak test results every time.

If you'd like to learn more about leak testing for medical devices, contact the leak test experts at Cincinnati Test Systems.
CONTACT US TO DISCUSS TO IMPROVE YOUR MEDICAL DEVICE LEAK TESTING >